Jessie, the president of the DC Modern Quilt Guild, just had a baby. I was lucky enough to get to put together the blocks from the MQG members to make the quilt for the new little bundle.
I was inspired by
Teaginny's Tiny Log Cabin Quilt
. So I asked for monochromatic log cabin blocks in each member's favorite color, out of their favorite fabrics and measuring only four to five inches. I also asked each person to send some pale neutral scrap for the sashing.
Once I received quite a few blocks in the mail, I arranged them on my design floor. I like to use the back of a picnic tablecloth. The flannel side is very sticky and the other side is slippery so it is easy to roll up or fold and then flatten it back out without my blocks getting rearranged.
Then I started improv piecing around each colorful block with whatever low volume bits I could find that worked. Here is the first quarter,
the second quarter (after Henry trampled on it),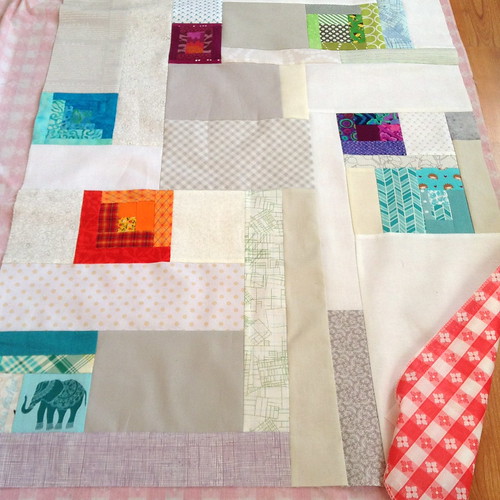 the third quarter,
and the fourth.
Once the top was all assembled I basted it,
and then did some quilting with white 20wt thread.
Then I added some black hand quilting around each block...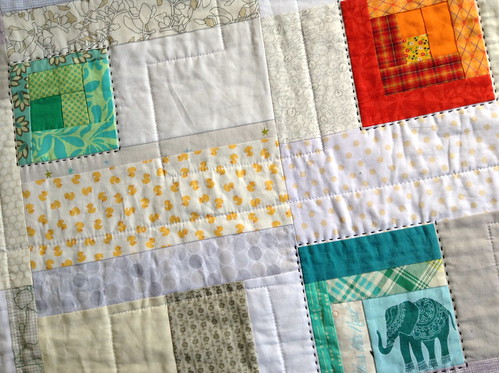 (that cerise block is mine!)
...and I hand stamped the back of the quilt with the first name of the person that made that block.
Linda attached the binding and hand stitched most of it and Anne finished the rest. I'm so grateful that some people like to add binding because it is my least favorite step of the process.
I stamped DCMQG and wrote the year on it.
These are 11 of the 24(!) people that submitted blocks for this quilt.